Timber Lane Pediatrics is a full service pediatric office. We offer:

Prenatal Visits
Newborn and Lactation Care
Well Child Care
Adolescent Care
Sick Visits

School and Sports Physicals
Mental Health Services
Social Work Services
Medical Home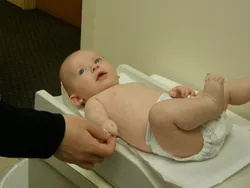 Prenatal Visits
If you are expecting a new baby, we welcome you to set up a prenatal visit with one of our physicians. The purpose of this visit is for you to meet your new physician, ask any questions you may have, and make sure our practice will suit your needs.
There is no charge for these visits.
Beginnings: A Center for Childbirth and Parenting Education is an affiliation of Timber Lane Pediatrics. Beginnings' classes include: Preparation for Childbirth, Preparation for Breastfeeding, Infant Care, Pediatric CPR, Big Sister Big Brother Sibling Preparation, Refresher in Childbirth, and VBAC. Each course offers participants relevant, up-to-date information necessary in making informed decisions about pregnancy, birth and the postpartum period. Please call 658-5959 or visit www.beginningschildbirth.com for more information.
Newborn and Lactation Care
Your newborn will typically come for his or her first office visit 1-2 days after leaving the hospital. Your baby may be followed for additional visits in the first few weeks of life depending on how he or she does with feeding, weight gain, jaundice, and other aspects of newborn health.
Our certified lactation consultants Courtney Walker, Kristen Bird, Kari McKinley and Leah Macaulay are happy to assist you with breastfeeding your newborn.
Well Child Care
Well child visits are performed during the first year of life at 2 weeks, 2 months, 4 months, 6 months, 9 months and 1 year.
Toddler visits are performed at 15 months, 18 months, 24 months, 30 months, and 36 months.
Older children are seen on a yearly basis.
At each of these well child checks, we perform certain tests and assessments as recommended by the AAP, such as developmental screening, vision and hearing tests, and depression screenings. Some of these tests and assessments may result in separate charges to your insurance. Please see * this attached letter * for more information on specific screenings performed at each visit.
We offer all immunizations as recommended by the American Academy of Pediatrics, the state of Vermont, and the CDC.

Adolescent Care
Adolescent care is started at age 12 and teens are seen yearly for wellness checks. During these visits, your teen will be encouraged to start becoming more independent with his or her own health. We offer contraceptive care and testing for sexually transmitted disease. We follow adolescents through college age.
Sick Visits
We have same day appointments available at all sites for your child for acute illnesses. We offer select morning walk-in hours for routine illnesses. Weekend hours are reserved for acute illness only. After hours, a physician is always on call and can be reached through our answering service by calling the office.
School, Camp and Sports Physicals
We offer full school and sports physicals for all school-age children. Many parents choose to combine these with their child's yearly well child check. Please allow 3 business days for completion of all school, camp and sports forms. Forms may be expedited to be completed in 24 hours for a fee of $10 for each school or camp form and $25 for each college form.
Mental Health Services
We offer mental health services, including care for anxiety, depression, and ADHD.
Social Work Services
We offer social work services through our Community Health Team with Danni Pratt and Jennie Corrigan.
Medical Home
We pride ourselves on being a true medical home for our patients. We strive to provide patient-centered, comprehensive, accessible care and coordinate with other medical providers, schools, and each other. Timber Lane Pediatrics is a certified medical home.